Drain Cleaning Service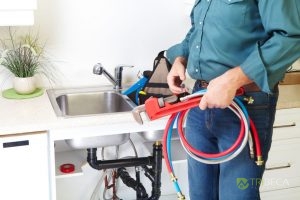 Nothing is more annoying or pesky than a clogged sink. It can come out of nowhere and can be a headache to deal with. While reaching for liquid drain cleaner might seem like the best solution, it could do more bad than good. The chemicals in the liquid cleaner can cause pipe corrosion, causing more damage than you were anticipating. If you are in need of quality drain cleaning services that won't break the bank, Tribeca Plumbing, Inc. has you covered! We are a full-service plumbing company that you can count on for your drain cleaning services. Whether you have a slow moving drain or clogged drain, our plumbing team has the knowledge and equipment to handle it. If you're looking for a drain cleaning service in Dallas, TX, give us a call at (214) 402-5454 today!
Top-Notch Drain Cleaning Service Company
How does a drain get clogged in the first place? There are a number of reasons why your bathroom or kitchen drains can become damaged, but there are a few common culprits that are to blame.
Hair and soap binding together
Cooking grease
Food scraps
Expired medicine
Toxic chemicals
Not only are these things harmful to your drains, but they can also do damage to your plumbing pipes. Fortunately, our plumbing company is here to provide quality drain cleaning services. We understand that clogged or slow-moving drains can be annoying; our plumbers are able to solve your drain issues using high-tech plumbing tools and technologies. It is our priority to provide drain cleaning service that is fast, friendly, and done correctly the first time to avoid further issues. If you need your bathtub drain or kitchen sink drain repaired, our plumbers are here for you!
Contact Us For Drain Cleaning Service
Whether you need commercial or residential drain cleaning services, our plumbing company is able to assist you. We provide 24/7 emergency service to our customers, to guarantee their drainage problems never have to wait. We pride ourselves on being an honest company that looks out for our customers, and we provide upfront pricing before we begin any job. There are never hidden fees – just affordable, upfront costs. If you are in need of residential or commercial drain cleaning service in Dallas, TX, call (214) 402-5454 today for services you can trust.