Garbage Disposal Repair & Installation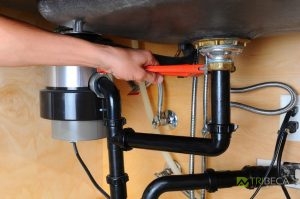 Our garbage disposals are an important function in our kitchens. Because they are essential to your kitchen's plumbing, it is crucial to keep them in good condition. We don't tend to think of garbage disposals as being high on the priority plumbing maintenance list, but if we don't take care of our disposals, they will eventually break down and need to be repaired. At Tribeca Plumbing, Inc., if you need residential or commercial garbage disposal repairs, we are able to assist you. We provide emergency service 24/7, so if your garbage disposal is acting up in the middle of the night, you can count on us to repair it immediately. It is our goal to save you time and money on your repair, so you can get back to enjoying life. Call us today at (214) 402-5454 for garbage disposal repair in Dallas, TX.
Trusted Garbage Disposal Services
Garbage disposals are more susceptible to damage than we think. Even though they are built to discard scraps of food, not just anything can go down the disposal.
Some foods can hurt your disposal: Pasta, rice, corn husks, onion skins, coffee grounds, eggs shells, and too many potato peels.
Chemicals: Bleach and drain cleaners can damage the disposals
Grease: Grease will eventually build up in the pipes and clog them.
Running it without water: Turning the disposal on without water running can do some serious damage.
Fortunately, if you are even in need of garbage disposal repairs, we are here to help. Our plumbers will be able to provide repairs that are timely, affordable, and efficient. By using innovative plumbing tools and technologies, we are able to find and fix the problem immediately. Plumbing repairs can be stressful, but when you call on us, we guarantee we'll repair your disposal in no time and have it working more effectively.
Garbage Disposal Replacements
If your garbage disposal is beyond repair, you'll want to replace it right away. Installing a new disposal yourself may seem like a good idea, but a professional plumber will be able to install it quickly and save you money. Our plumbers are able to replace and install a new garbage disposal when your old one is too damaged. We are able to install any make or model and get it up and working fast. If you need installation or garbage disposal repair in Dallas, TX, call us today at (214) 402-5454!