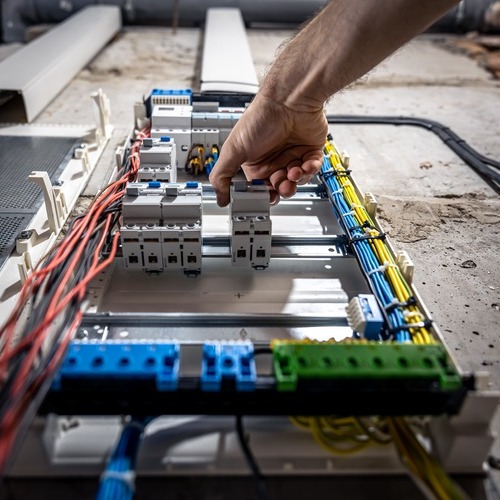 Electric Repair Professionals
If your breaker keeps tripping or your outlets don't work when you need electric repair in Dallas, TX, count on the trusted, local professionals at Tribeca Plumbing, Inc. We offer a full range of electrical services from minor repairs to installations.
Without a sound electrical system, your home isn't going to function. We make sure all your systems from outlets to lighting and appliances power up perfectly. So, no matter what troubles your system encounters, you can count on our repair professionals to fix them. It's easy to set up an appointment. All you have to do is call our office at (214) 402-5454.
Our Electrical Repair Service Offerings
When it comes to electrical repair, people know that they can trust Tribeca Plumbing, Inc. because they know we can meet all their needs. From the smallest outlet repair to replacing utility meter bases, our experts can do it all. Here is a sampling of the service offerings we provide:
Lighting and light switch repair: We can repair any type of lighting or even upgrade your system to save you money.
Outlet repair: We can repair or move old outlets or install new ones.
Generator repair: We'll make sure your generator is ready to power up in case of an emergency outage.
Utility meter base repair and replacement: We can repair meters or replace old, inefficient ones to ensure you get the best value from your utilities.
Electrical panel or breaker box repair: We'll keep the heart of your electrical system in good working order.
What you'll discover working with us for electrical repair is a team of multitalented professionals who are always prepared to do any job you need. Our technicians are licensed and insured and have the training, experience, and equipment to get any electrical repair job done right.
What this means is that you can relax with the confidence of knowing your repairs will be made safely and effectively. Our technicians will explain in detail everything that'll be required of the repair so that you'll make the best decision about how to proceed.
Call Us Today
For any type of electrical repair in Dallas, TX, know you can always rely on the professionals at Tribeca Plumbing, Inc. for the highest-quality service. Get booked today by calling (214) 402-5454.