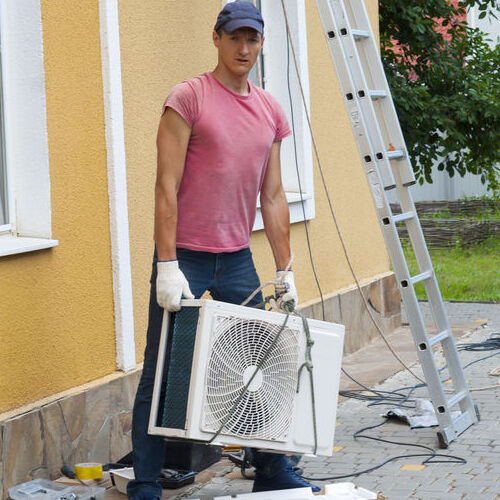 Air Conditioner Replacement Specialists
When summer's at its hottest in the DFW area, you rely on your air conditioner to keep you cool and comfortable. If you've noticed lately your air conditioner isn't keeping you as comfortable as it once did, or it's stopped working, it might be time for an air conditioner replacement in Dallas, TX.
When you get a new AC, you'll be saving money all around in utility expenses and repair costs. If you think you're ready for a new unit, when it comes to air conditioner replacement and installation, you want HVAC services you can rely on. You'll find that at Tribeca Plumbing, Inc.. You can easily schedule a time for a service appointment by calling our office at (214) 402-5454.
When to Replace Your Air Conditioner
For the most part, even with regular maintenance, most air conditioners last about 12 to 15 years before they're ready to be replaced. So what are some of the signs you need air conditioner replacement?
Age: The older your air conditioner gets, the more energy it uses to maintain the same levels of comfort you're used to. No matter how old your system is, if it's no longer cooling as it first did, you should have one of our professionals check it out. It could just need maintenance or repairs to get it operating efficiently again. Our technicians will be able to determine what the problem is and the best solutions.
Reduced energy efficiency: You might notice some rooms are cooler than others or your AC has to run longer to cool them. It's more energy wasted and this extra energy use costs you money.
Frequent repairs: As your system ages, you'll probably also find yourself spending money on repairs. With a new air conditioner installation, you'll save money on repair costs.
Give Us a Call Today
When your air conditioner is no longer providing the comfort it should and you need reliable professionals for air conditioner replacement in Dallas, TX, you can always trust the professionals at Tribeca Plumbing, Inc.. We offer the solutions you need for all your heating and cooling problems. Find out more or book a service appointment by calling (214) 402-5454.