Repiping Services
Repiping your home is no simple task, and you want a reliable plumber to do the job. If you need repiping in Dallas, TX, call Tribeca Plumbing, Inc. at (214) 402-5454. We'll inspect your home to see if repiping is necessary and provide you with the best solution for your budget and needs.
Signs That You Need to Repipe Your House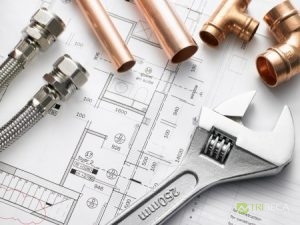 Several factors contribute to pipe damage, and it is bound to happen to every home over time. If you start to notice rusty water, multiple leaks in your home, or corroded pipes, it could be time to repipe your house. Age is also a major factor. Many people think that pipe failure only happens in older homes, and while this is more common, it depends on more than age. Hard water or heavily chlorinated water can contribute to earlier deterioration. A shoddy construction job could also lead to early failure.
Depending on when your home was constructed, your pipes may be made of one of many different materials that all age at different rates. Here are the most common piping materials and their general lifespan:
Brass (40-70+ years)
Copper (50-80+ years)
Cast Iron (80-100 years)
Galvanized Steel (20-50+ years)
PVC (20-40 years)
In addition to these materials, your home could have lead pipes (used in the early 1900s) or polybutylene pipes (used in the 70s through the 90s). Lead pipes are extremely durable but can leach harmful lead into your drinking water. If you have lead pipes, you should have your water tested and consider repiping with a safer alternative. Meanwhile, polybutylene pipes are prone to sudden breakage, which can cause serious damage. If you have this kind of piping, we strongly recommend replacing it.
Skilled Repiping Services in Dallas, TX
Because of the labor-intensive process of repiping a house, it is not a cheap repair. However, our plumbers work hard to repipe your home with as little mess and cost as possible. We are committed to honest and fair pricing on every project. Are you ready to learn more about repiping in Dallas, TX, including information on our methods and pricing? Call Tribeca Plumbing, Inc. at (214) 402-5454.