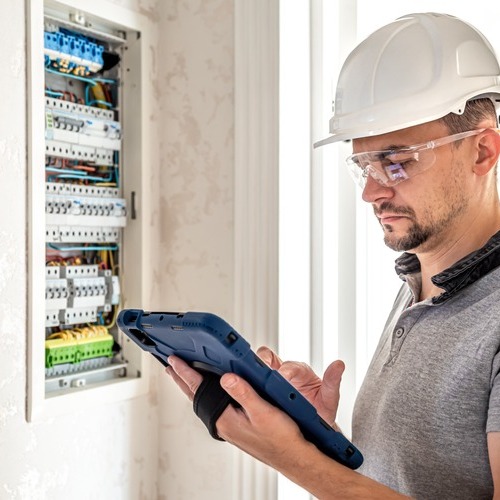 Experienced Electricians
Do your lights flicker? Is something mysteriously tripping circuits in your home? Don't wait in the dark. If you need electrical services in Dallas, TX, count on the trusted expert electricians at Tribeca Plumbing, Inc.
Here are five reasons we spark our client's interests with our electrical services:
We're licensed, insured, and have been at this for a long time.
We're equipped with the right tools and knowledge for anything from outlet repair to installing ceiling fans.
We're mindful of your safety.
We're always available to address your needs, including providing 24/7 emergency repairs.
From installing smoke detectors to rewiring homes, we're ready to help you with any electrical services. You can schedule us in a flash by calling (214) 402-5454.
Our Electrical Services in Dallas, TX
As a full-service electrician, Tribeca Plumbing, Inc. is fully capable of completely addressing all your electrical services needs from repairs to installations, as well as inspections. Whatever service you need us for, expect exceptional customer service. Our goal is to ensure you have a safe and effective electric system that meets your demands, whether for your home or business. Here is a sampling of the services we offer:
Electrical Repair
Lighting and light switch repair
Outlet repair
Generator repair
Electric panel or breaker box repair
Electrical Installation
Electric panel or breaker box installation
Electric fixtures like ceiling fans
EV car chargers
Generators
Electrical Inspection
Safety is key when it comes to electricity and our experienced professionals know what to look for when it comes to inspecting your electrical systems. They have the knowledge to determine if anything from wiring to breakers needs to be repaired or updated to properly handle all your appliances and lighting. Any sort of problem with your electrical system can lead to hazards ranging from overloading and damaging appliances to electric shocks to fires. Our technicians are well-grounded in all aspects of electrical services which means they are able to provide the most thorough inspections available. Our electricians can even install whole-house surge protection to further ensure your home's safety.
No matter what it is, we meet every electrical service need. We're even available 24/7 for emergency repairs. Never hesitate to call us. We'll answer the phone even after regular business hours because we put our customer's comfort and safety first.
Call Us Today
From repairing overloaded circuits to keeping your electrical system well-grounded, when you need expert electrical services in Dallas, TX, and the surrounding communities, you'll always receive exceptional professional service from the team at Tribeca Plumbing, Inc. We are local, trusted electricians and we offer a full range of services including 24/7 emergency care. It's fast and easy to book a service call by dialing (214) 402-5454.