Slab Leak Detection & Repairs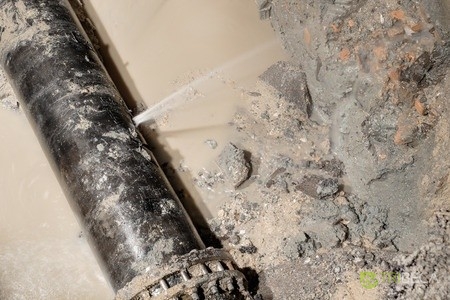 Your foundation is the most important part of your home, but like the rest of your home, it's not immune to the wear and tear of the North Texas climate. Discovering a slab leak in your home's foundation can be alarming, but rest assured the professional team at Tribeca Plumbing, Inc. is here to expertly repair your slab leak.
This part of Texas is a great place to live, but the soil here is just as unpredictable as the weather- that's why homes here are built on a foundation of sturdy concrete. Unfortunately, the concrete slab your home is built on can crack and settle, which causes leaks in your home's pipes. If you suspect your home has a slab leak and you need slab leak detection in Dallas, TX, our team can be there to help. Call (214) 402-5454 and let our licensed plumbers find it and fix it!
Slab Leak Detection
Signs of a slab leak in your home can range from mildly inconvenient to incredibly distressing. Slab leak detection should be performed by a professional plumbing contractor. Being aware of the signs of a slab leak is the first step to a fixing your foundation. If you notice any of the signs of a slab leak call our expert plumbing contractors immediately. Things to watch out for include:
You notice a hot or cold spot on your flooring
You can hear water running, but can not locate the source of it. (Make sure to check your water heater, and faucets first.)
Water pressure in your home is suddenly lower.
You see cracks in your walls and/or ceiling.
You have areas of moisture or mildew forming in your home, or even underneath your carpet.
Slab leaks can also cause drains that continually clog despite measures taken to prevent or disperse clogs. You may also want to pay close attention to your water bill as slab leaks can cause your bill to increase without having increased your water use in your home.
The Right Slab Leak Repair For You
When it comes to slab leaks, there is no "one-size fits all" solution. Your home and your slab repair needs are as unique as you are. Your repair options can vary a great deal depending on how extensive your slab leak is. Our licensed plumbers not only specialize in accurate slab leak detection in Dallas, TX (and the surrounding area), but also in finding the right solution for your specific situation. Our team of experts is up to date and highly trained to deal with this uniquely North Texas foundation issue. Call (214) 402-5454 and let Tribeca Plumbing, Inc. use our state-of-the-art equipment to find and repair your slab leak.