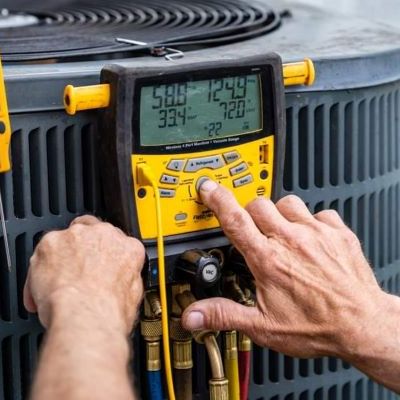 Reliable HVAC Services
Are you looking for HVAC services in Dallas, TX? When it comes to your home's heating and cooling, you don't want to compromise on quality services.
How do you know an HVAC contractor is a reputable professional? Here are five reasons why people in the area choose Tribeca Plumbing, Inc. for their HVAC services:
We are licensed and certified. You'll find our team is knowledgeable, professional and efficient.
We are experienced. You'll find our multitalented and experienced team is highly skilled at troubleshooting and repairs.
We offer fair pricing. You'll find our pricing competitive and cost-effective.
We offer emergency services: You'll find we're available when you're in a pinch.
We provide excellent customer service: You'll find our team members are transparent about our services and will keep you updated on repairs and will always be respectful of your home and time.
If this sounds like the kind of service you're looking for from an HVAC contractor, then be sure to call (214) 402-5454 to get a service appointment scheduled.
Benefits of Choosing Tribeca Plumbing, Inc.
DFW residents know they are choosing more than just high-quality experienced professionals when they come to Tribeca Plumbing, Inc. for HVAC services. They also know they're getting a team that can deliver on everything from upgrading your thermostats with the latest technology to installing the most energy-efficient, money-saving air conditioning system you can get. Here is just a sample of the service options we offer:
Air Conditioning
Air conditioner replacement and installation
Air conditioner parts replacement
Indoor air quality services
Heating
Electric and gas furnace repair and replacement
Heater parts replacement
Heat pump repair and replacement
Emergency HVAC Services
In addition to our comprehensive HVAC services, when you're in need of emergency air conditioning or heating repair, we are available to help you 24/7.
We know that HVAC emergencies can be stressful and frustrating. That's why our technicians are always available for emergency services. They want to ease your stress and frustration and restore your comfort as soon as possible. We'll get to you quickly after you call. We'll do our best to:
Extend your system's lifespan: With our quality repairs, your system will last longer, while saving you money.
Prevent property damage: We'll make sure to protect your home any time we provide services.
Keep utility costs down: A quality repair will make your system run efficiently again, which will cut utility costs.
Call to Get Scheduled
Another benefit of choosing Tribeca Plumbing, Inc. for HVAC services in Dallas, TX–we make it easy to schedule a service appointment. All you need to do for our quality services is call our offices at (214) 402-5454. Our friendly office staff and our expert technicians are ready to help you.