Remove Hard Water
It's important to have water quality that is safer to drink and use with the various rooms of your property. Depending on where you live contaminates and conditions of hard water will range in severity. With a water softener, you can ensure that water is transformed to become more drinkable. There are ultimately different systems that will match with different homes and different numbers of occupancy, get in contact with a professional to get set up with a system that's right for you. Until then, here is some general background information regarding water softeners that may prove useful to you.
What exactly does a water softener do?
Essentially a water softener will have hard water undergo ion exchange by removing the calcium, magnesium, and other minerals from drinking water and exchanging them with sodium or potassium. There are resin beads inside the softener which will trap and conduct this process.
How long does a water softener last for?
A water softener can last anywhere from 10-15 years yet will require periodic maintenance and service in order to last a longer amount of time.

How long does it take to get soft water after installing a water softener?
After getting a water softener installed you'll have softened water upon use yet you'll start to have scale removed from your pipes in two weeks.

Will a water softener clean my pipes?
A water softener will work to eliminate the hard water scale from inside your pipes and appliances as it works to reduce the amount of magnesium and calcium in water which plays an active hand in pipe corrosion and clogs. Additionally, softened water will work towards getting rid of the soap scum left behind when cleaning with hard water.

What should I look for when buying a water softener?
If you're in the market for a water softener first determine what the appropriate size will be for your property. You can do this by multiplying the number of people in your home by the gallons of water they use each day. (A helpful point of reference is that usually 80 gallons per person is used each day on average.) Multiply that number by the grains of hardness in your water to see how many grains will need to be removed each day.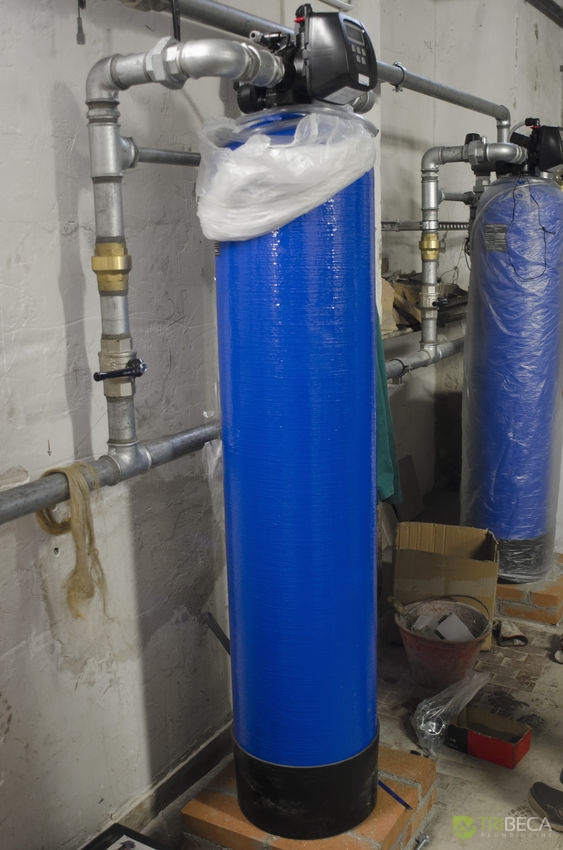 What is the best water softener?
Best Overall: AFW Filters Iron Pro 2 Water Softener
Runner Up: Fleck 5600SXT 64,000 Grain Water Softener
Best Bang For Your Buck: iSpring ED2000 Whole House Electronic Descaler
Upgrade Pick: DuraWater 64k-56sxt-10al 64,000 Grain Water Softener
Salt-Based Pick: Fleck 5600SXT 48,000 Grain Water Softener
Salt-FreePick: Watts Premier OneFlow + Salt-Free Filtration System
Magnetic Pick: YARNA Capacitive Electronic Water Descaler System
How do I know if my water softener is working properly?
You may be able to tell that your water softener is working properly by conducting a soap test. Add pure liquid soap like Castille soap to a pool of running water in a sink and see if it lathers and bubbles. With soft water, it will do this yet with hard water this same soap won't function properly.
Do water softeners need maintenance?
A water softener will require maintenance periodically such as adding the right type of water softener salt into the system as needed. As most water softeners are fully automatic and provided they are properly sized with your home, they can operate for years with minimal maintenance. See what needs to be done with your particular system specifications by speaking with a professional about these details upon installation.

Is it bad to let your water softener run out of salt?
If you forget to top off your water softener the softening resin will stay saturated which will bring the ion exchange to an abrupt halt and allow hard water minerals into your pipes, fixtures, and appliances once more. In order to avoid this make sure to periodically refill your brine tank with salt.

Should my water softener recharge every night?
Regular regenerations with your water softener are recommended as it will keep the resin bed active. Regeneration should be done every two to three days yet with highly efficient water softeners you'll see regenerations every day or even multiple times a day.

Get in Touch With an Expert About a Water Softener For Your Property
When you're looking to have a water softener for your property it's best to get set up with a professional who will best be able to match the right kind of system with the specifications and needs of your property. A water softener installation will be easy to maintain and you can discuss instructions of care with your installer. Ensure that your pipes, appliances, and fixtures are being taken care of with softened water running through them. Get better water quality today with the addition of a water softener system. 

If you're interested in a water softener in Dallas, TX call Tribeca Plumbing, Inc. at (214) 402-5454 for a great system!